Advantages
The type of RC Drilling Rig, for small and medium open-pit mining , quarrying and infrastructure construction projects, and research and develop a efficient , energy-saving advanced drilling equipment. It inherits the advantages of other rc drilling rigs , while injecting a new design concept, so it has many features, such as easy to maintain, walking safely and stably.
1.Overall layout is more reasonable , easy to maintain.
2.Displacement and torque is large , and power is full in harsh environments .
3.Hydraulic adopts relatively independent multi-pump system , cancel the driver valve , and more stable.
4.Equipping single-stage high- pressure screw air compression system
5 Drill rig equipped with an efficient two dry dust collection system, greatly improve the working environment , in line with energy-saving , environmental protection concepts.

Specification
1
Geology drilled


All kinds
2
Drilling Type


RC&DTH
3
Drill system and operation


Hydraulic
4
Max.Hole Diameter
mm
Φ105—Φ350
5
Max.Hole Depth
m
200
6
Rotation Torque
N.M
8500
7
Rotation Speed(Forward rotation)
rpm
0-40 1st Gear
0-80 2nd Ger
8
Rotation Speed(Revise rotation)
rpm
40 1st Gear
80 2nd Ger
9
DTH Drill pipe diameter
mm
76/89/102/114/127
10
RC Drill pipe diameter
mm
102/114/127
11
Drill pipe length
mm
3000
12
Max. Feed Speed
M/min
5-30
13
Max. Lifting Speed
M/min
5-18
14
Feed Stroke
mm
3400
15
Max. Lifting force
T
12
16
Lifting force of Main winch(Optional)
T
4
17
Lifting force of tool winch
T
1.5
18
Lifting height of tool winch
m
7.5
Engine
19
Diesel Engine type
CUMMINS
20
Rated Horse power
Kw
112
21
Electrical System
Volt
24
Centralizer
22
Type


Open
23
Diameter
mm
300
Hydraulic Clip
24
Clamping Force
KN
157
25
Clamping Rod Diameter
mm
76-219
Dimension
26
Net Weight
T
13
27
Shipping Length
mm
7550
28
Shipping Width
mm
2260
29
Shipping Height
mm
2700
30
Hydraulic Leg Feed Stroke
mm
600
31
Gradeability
°
21
32
Ground Clearance
mm
300
33
Volume of Flow
mm
200
Application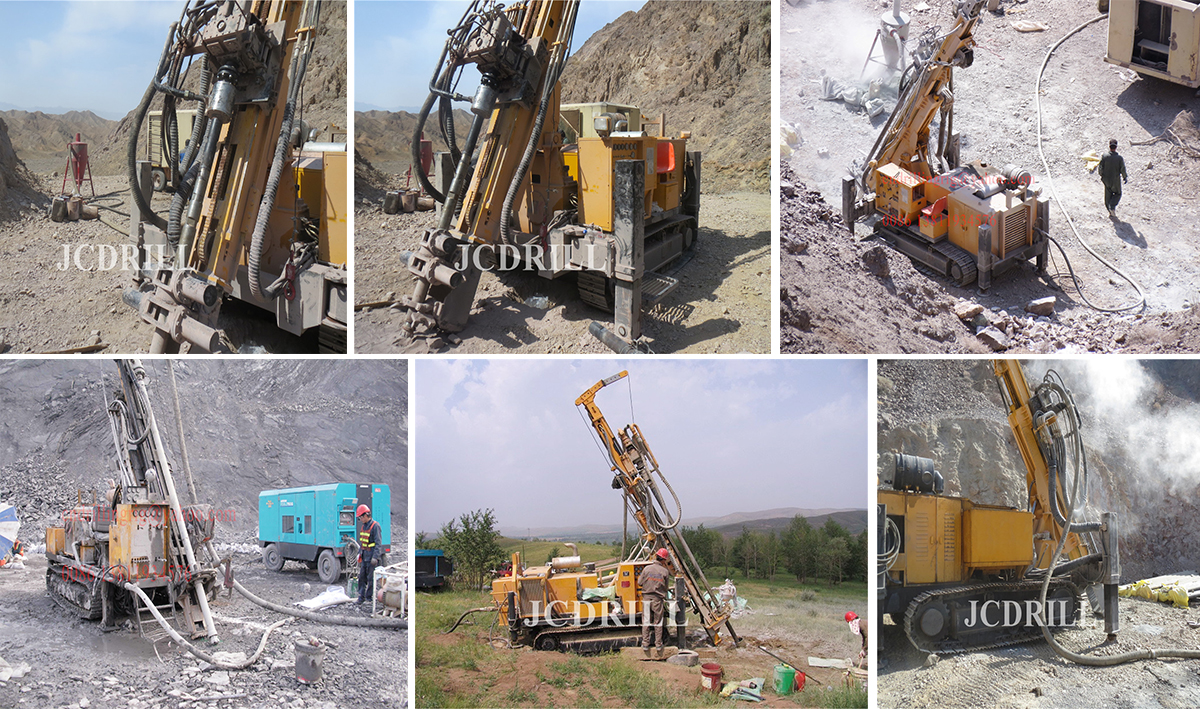 Chracteristics
1.Diesel engine mounted hydraulic system,all the system include the walking,rotation,feed,lifting,Leg,lifting, compensation system,rod change is hydraulic.
2: Reverse circulation system working together with DTH technology,air compressor provide pressed air for impact and dust collect.
3. During working,use the reverse circulation hammer,double tube,pressed air enter between two tube and dust out from the inner tube.
4. Also it's available to positive circulation use normal drilling tool.
5. The working system composed of feed system,guide(mast),rotary head, compensation system, centralizer,rod exchange system, winding and so on.
6. Axes pressure,feed speed,rotary speed is adjustable.
7. The walking system is a self-walking system,convenient for moving,which could install four hydraulic leg,when load on truck,it doesn't need hiking up,it can load on truck directly.
8. Four hydraulic leg use for keep the balance of the drilling during working.
9. The sub winding could hoisting Max.1ton drilling tool,it also could help to rod change.
10.The guide(mast) could working in 45°-90°,guide have a extension system,which ensure the guide could moving toward the drilling surface,to keep the balance of the guide.
11. Gradienter,angle label and centralizer to ensure the precision accuracy of hole.
12. The air system have a special lubrication system to lubricating the hammer to extend the service life.
Shipping