Advantage
The reverse circulation rig(rc drilling machine) is a cost-effective, environmentally safe, energy-saving and efficient split-type down-the-hole drilling rig widely used in various open pit mines, quarries, engineering sites, etc. With a hole diameter ranging from 90 to 110 mm, the down hole drilling rig has a low body and a new casing design, which makes the product more stable and aesthetically pleasing than similar machines.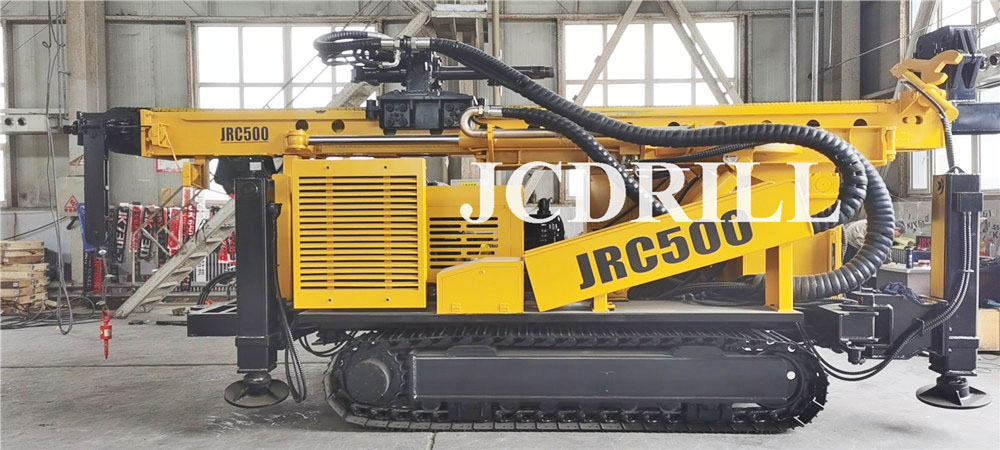 Specification

1
Geology drilled


All kinds
2
Drilling Type


DTH & RC
3
Drill system and operation


Hydraulic
4
Hole Diameter
mm
Φ90—Φ400
5
Hole Depth
m
500
6
Rotation Torque
KN
85-100
7
Rotation Speed
rpm
0-80 1st Gear
0-160 2nd Ger
8
Drill pipe diameter
mm
76/89/114
9
Drill pipe length
mm
4/4500
10
Max. Feed Speed
M/min
18
11
Max. Lifting Speed
M/min
5-20
12
Feed Stroke
mm
3400
13
Max. Lifting force
T
28
14
Lifting force of Main winch(Optional)
T
4
15
Lifting force of hoist
T
1.5
16
Lifting height of tool winch
m
100
17
Diesel Engine type
CUMMINS
18
Rated Horse power
Kw
180
19
Electrical System
Volt
24
20
Compressor Type
Rotary Screw/Movable
21
Pressure Required
Mpa
1.05—4.5
22
Air consumption
m³/min
16—60
23
Net Weight
T
13
24
Shipping Length
mm
7550
25
Shipping Width
mm
2260
26
Shipping Height
mm
2700
27
Ground Clearance
mm
300
28
Volume of Flow
mm
20
Application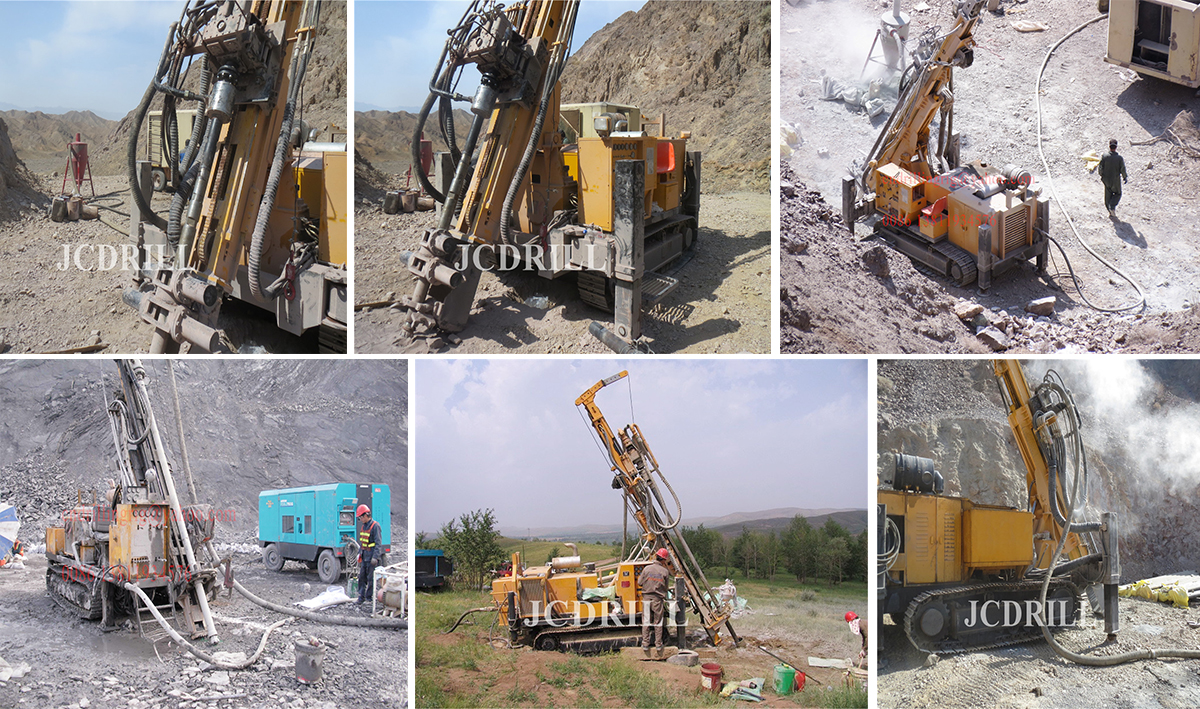 Characteristics
1. Diesel engine mounted hydraulic system, all the system include the walking, rotation, feed, lifting, Leg, lifting, compensation system, rod change is hydraulic.
2. Reverse circulation system working together with DTH technology, air compressor provide pressed air for impact and dust collect.
3. During working, use the reverse circulation hammer, double tube, pressed air enter between two tube and dust out from the inner tube.
4. Also it's available to positive circulation use normal drilling tool.
5. The working system composed of feed system, guide(mast), rotary head, compensation system, centralizer, rod exchange system, winding and so on.
6. Axes pressure, feed speed, rotary speed is adjustable.
7. The walking system is a self-walking system, convenient for moving, which could install four hydraulic leg, when load on truck, it doesn't need hiking up, it can load on truck directly.
8. Four hydraulic leg use for keep the balance of the drilling during working.
9. The sub winding could hoisting Max.1ton drilling tool, it also could help to rod change.
10.The guide(mast) could working in 45°-90°, guide have a extention system, which ensure the guide could moving toward the drilling surface, to keep the balance of the guide.
11. Gradienter, angle label and centralizer to ensure the precision accuracy of hole.
12. The air system have a special lubrication system to lubricating the hammer to extend the service life.
Shipping