Truck-mounted water well drilling rig is a kind of professional machinery and equipment with advanced structure, and its excellent performance greatly improves the drilling speed and efficiency, which is popular with people. So, what are the advantages of truck-mounted water well drilling rigs? Let's find out.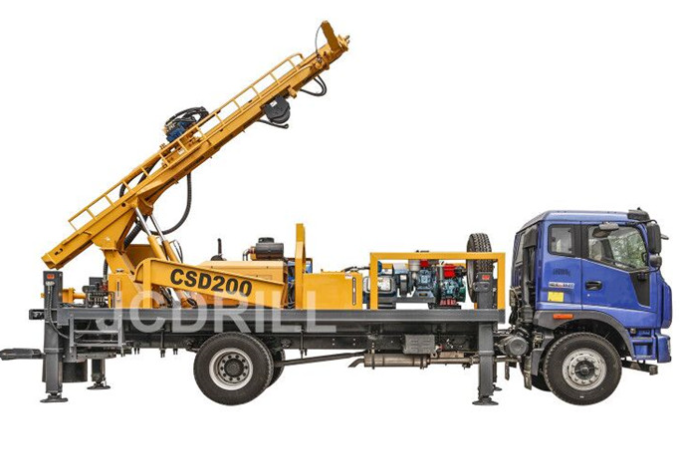 Truck-mounted water well drilling rig
The water well drilling rig installed in the car is light in weight and easy to move. The weight of the submersible drilling rig is less than 500Kg, and it can be divided into three lathes for easy movement.

Truck-mounted water well drilling rig adopts a high-performance reducer to generate rotary force by the motor and thrust by the cylinder. Realize high mechanical efficiency, low cost, and stable performance.

Rolling pallets are used for water well drilling rigs on ships, and the tracks are not easy to wear.

The water well drilling rig installed on the car has an oil-proof function. If the drill bit is stuck, the motor will be difficult to drive and the reducer will not be easily damaged.

The drilling rig mounted on the vehicle adopts semi-automatic rolling and dismantling drill pipe, with high working efficiency.
The working process of the water well drilling rig installed on the vehicle cannot be separated from the use of the pump, which is used for the reverse circulation operation. Under the influence of atmospheric pressure, the circulating fluid flows from the settling tank along the annular gap of the wellbore through the backflow channel to the bottom of the well. As the turntable drives the drill pipe, the drill pipe rotates the drill bit to drill the hole, which is manufactured by the suction pump.
The negative pressure draws the debris mud into the inner cavity of the drill pipe, then rises to the outlet and is discharged into the settling pond by the mud pump. The circulating fluid continues to flow into the wellbore, creating a reverse circulation drilling operation. Mud or water enters and exits the water source from the drill pipe of the positive circulation drilling rig. The mud or water is sucked out of the drill pipe and out of the water source (reverse circulation rig).
So, are you ready to use a truck water well drilling rig in your industry? Feel free to contact us for a free quote.