For water well drilling rigs, the general requirements are: simple configuration, low energy consumption, easy operation, high mobility, multi-functionality and small size. In practical application, the rig must be selected according to the stratum, hole diameter and depth, and drilling method.
1. Price
Machine price is the key factor for people to choose the right drilling rig as a one-time investment. The price of the machine increases with the increase of hole diameter and depth.
From the viewpoint of drilling methods, submersible drilling rigs are more expensive than core drilling rigs, and hydraulic drilling rigs are more expensive than vertical shaft drilling rigs, which are mechanical drilling rigs.
From the perspective of mobility, truck-mounted drilling rigs are more costly than crawler rigs.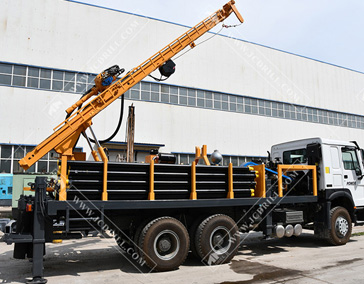 Hydraulic Rotary Truck Mounted Borehole Drilling Rig
2. Operation cost
Operating costs can significantly affect the profit one can make in the drilling business. Net profit is the water well drilling revenue that the driller receives from the water well user minus the operating costs.
Operating costs include personnel salaries, casing, mud and fuel costs, and rig maintenance costs.
In terms of rig type, submersible hole (DTH) rigs have higher operating costs than rotary drilling rigs that use mud pumps. This is because submersible drilling rigs require air compressors and have much higher fuel consumption. Compared with hydraulic drilling rigs, vertical drilling rigs (mechanically driven) are more economical.
3. Drilling efficiency
Drilling efficiency depends on the formation, operator's skills/experience, rig type and drilling method.
For rocky conditions, the most efficient method is to use a submersible drilling rig that works with an air compressor.
For soil, clay and sand conditions, the best method is to use a drilling rig with a mud pump.
For cobbles, a reverse circulation system is the most suitable method of drilling. Simply add a set of reverse circulation drilling tools to the existing drilling rig.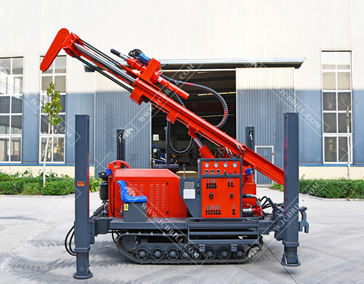 Crawler Mounted Water Well Drill Rig for Sale
4. Drilling method
From the working principle of the drilling rig, there are 3 main drilling methods:
The submerged drilling method, which needs to be used with an air compressor. This is a good method for rock conditions.
Mud pump rotary drilling is a more economical way of drilling, ideal for soil, sand and clay layers, and for rock, the drilling speed will be lower than submerged drilling.
With auger drilling, no air compressor or mud pump is required for drilling. However, it can only drill soil, clay and sand.
In terms of drilling process, we have 2 types of drilling methods:
Direct circulation drilling where drilling fluid (air or mud) is passed through the drill pipe and rock chips are carried away through the space between the outside of the drill pipe and the hole wall.
Reverse circulation drilling, which requires a double-walled drill pipe. The drilling fluid passes through the space between the inner wall of the outer pipe and the outer wall of the inner pipe. It is the most effective drilling method for cobble and sandy geological structures.
5. After-sales service
Service in the after-sales market is another key point in rig selection. During the drilling operation, the rig will have problems such as damaged parts and rig misoperation. All this requires timely and professional guidance from the rig manufacturer. Otherwise, it will affect the rig user's business.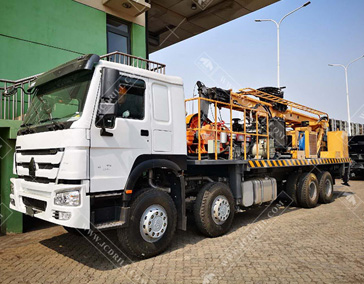 Water Well Bore Hole Drilling Rig for 1000m
6. Spare parts availability
People need to consider the availability of spare parts when buying a drilling rig. It is part of the operating cost. If spare parts are not easily available, it means you have to pay more to get it and it will take longer. All this will definitely affect the profitability of the drilling business.
7. Safety
Safety is the first priority in choosing a rig, including the safety of operators, service personnel and people around the rig during drilling and travel.
Therefore, safety guards, emergency stop devices, and dust collectors are needed to protect personnel from death or injury.
8. Environmental Protection
Nowadays, the requirements for environmental protection have increased in all countries, so the engine emission level and noise level need to be considered when selecting a drilling rig.
The buyer needs to refer to the standard code of the country or region where the rig will be used.
These are just some of the basics when selecting a drilling rig. It can provide guidance to entrepreneurs when they are planning to buy a drilling rig.