In the mineral exploration drilling business, drilling rigs and equipment are critical to winning tenders, completing contracts, and making money. Buying a new rig is a big decision and many variables and factors can influence that decision. The biggest question one must answer is, "Will this rig make money? Or will it cost more than others that can complete the same option for less money?"
Most drillers were repairing rigs they had to continue drilling on, without investing in new rigs and technology. Now that the market is growing slowly, many drilling contractors are making decisions about their fleets and whether they should rebuild idle rigs or buy new ones.
Operations managers know which components (engines, valves, components, etc.) need to be replaced and they usually have a fairly accurate idea of the cost of rebuilding the iconic rigs in their fleet. If the cost of rebuilding is close to the cost of buying a new rig, they may choose to conduct a full audit, inspecting each rig, assessing spare parts in stock, and checking maintenance records to get more accurate information to compare the cost of getting the rig ready to work again.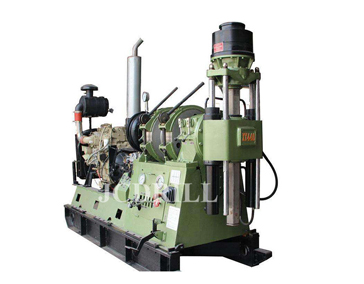 Core Drilling Rig
1. Price
When buying a new exploration or production rig it may be tempting to buy on price as there are many low-cost options out there. However, as with any other major purchase, it is important to assess the total cost of ownership. A lower-priced rig may actually have a higher total cost of ownership. Taking the time to price important replacement parts and spares can prove to save money in the long run.
Another thing to consider is the availability of these components. When buying a low-cost rig from a company that does not have a global footprint, the local availability of spare parts and the delivery time of replacement parts can affect your bottom line. Many smaller manufacturers support their customers on a regional basis only.
The reliability gained by purchasing high-quality components means that components do not have to be replaced as often, which means that it costs less to run the rig for a longer period of uptime than if you were to buy something at a lower price.
Drilling Rig
2. Availability
As the market improves, everyone can expect longer lead times - whether you are rebuilding or buying new. When the market is in recession or a real downturn, inventories increase, factories are not busy building new rigs and lead times are reduced. As the market improves and contracts increase, inventories decrease, factories are busier building more rigs and lead times tend to increase. Ultimately, lead times vary from manufacturer to manufacturer.
3. Define the scope and budget
Large mining companies can mandate technology and safety upgrades, and there are ongoing discussions about improving safety, leveraging innovation, and implementing technology. You need to have a competitive advantage that meets all operational requirements, but anything above and beyond can set you apart from other drilling contractors. For example, having a rig equipped with rod handling can provide the competitive edge needed to win projects.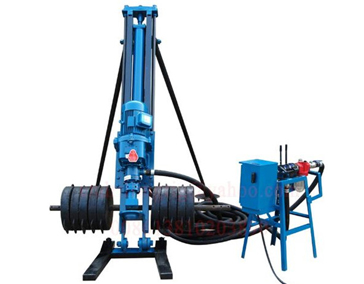 DM100A Pneumatic Powered Rock Drilling Rig
4. Value for money for rod pick-up equipment
Rigs equipped with rod handling equipment typically have fewer hand and back injuries, and less overall stress and strain. Mechanized rod handling also saves on labor costs and staffing as there is no need for an additional crew to manually handle the rod. In addition, being well known in the market as a drilling service provider that has updated its equipment with rod handling capabilities, you may be invited to participate in more tenders. When rod handling is first introduced, productivity suffers as machine rod handling is not as fast as manual rod handling. However, with newer technology, productivity can be maintained.
5. Why buy new rigs?
Take time to consider your options. Evaluate your current fleet of rigs and consider how you can maintain and update everything to stay competitive. Does your rig utilize the latest innovations and meet the latest safety standards? If repairs and available parts exceed returns, consider updating your fleet. The number one reason to buy new rather than used equipment is to increase productivity, improve safety and enjoy long-term reliability.
If all the benefits of buying new drilling equipment make sense, consult an expert to see what is available to meet your needs now and in the near future.